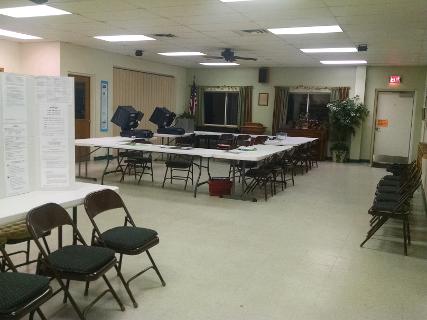 Polling Place Location:
Riverview Community/Senior Center
606 W Madison St
Voter Photo ID Required
The U.S. Supreme Court has affirmed the photo ID provisions of 2011 Wisconsin Act 23. A photo ID is now required to receive a ballot in all special and regular elections.

Registering to Vote:
To vote in Wisconsin you must first register to vote. You can start the registration process online at My Vote WI: myvote.wi.gov. You can also register in-person at your local municipal clerk's office, with a special registration deputy, or at the polling place on Election Day.
Some voters must submit proof of residence with their voter registration. This includes you if:
You are registering for the first time and submitted your form by mail, or
You are registering to vote less than 20 days before Election Day.
Absentee Voting:
If you are interested in voting absentee, please submit a request in writing to the clerk's office at :
Brittany Myers
W5832 US Hwy 10
Durand WI, 54736
Or by email: townofdurandclerk@yahoo.com

You may also vote in-person absentee by appointment, by calling 715-563-5728. In-person absentee voting begins no earlier than the 3rd Monday preceding an election, and no later than the Friday preceding an election. In-person absentee voting will take place at the home of the clerk.
MyVote Wisconsin Website
At myvote.wi.gov you can register to vote, check your voter registration status, find your polling place, see what's on your ballot, request an absentee ballot (military and permanent overseas voters only), and check provisional ballot status.
Poll Workers:
If you reside within the Town of Durand and you are interested in becoming a poll worker, please contact Clerk Brittany Myers, at 715-563-5728. Poll workers are paid an hourly wage of $10.00 per hour, including any training and election machine testing they attend.